Malaga
Sixt rent a car offers a large selection of rental services in Malaga, Spain. We offer a large selection of rental car choices from luxury cars, convertibles, vans, economy cars and so much more. If you are planning on doing a trip through Spain, Sixt also offers one way car rentals throughout Spain. No matter what your rental needs are Sixt has the right rental for you no matter if it is for a day or a month! Sixt is looking forward to greeting you in Malaga, Spain!
Malaga, Spain - an European destination that travelers delight in exploring
From rocky, seaside cliffs to winding paths through buildings hundreds of years old, it is hard to even scratch the surface of all there is to see in Malaga. For this reason, travelers will find it beneficial to rent a car during their stay. By renting a car, visitors will have much more freedom to explore all of beautiful attractions that this Spanish city has to offer.
Drivers renting a car often make the Plaza de toros La Malagueta one of their primary stops. Just off Malagueta beach, this centralized location is the home to the bullrings and stadiums that are both at once exciting and majestic. From here, driving a rental car, travelers can make their way to Tortuga. Located directly off the shores of the scenic Spanish beaches, Tortuga offers visitors the opportunity to dine on local foods and enjoy the atmospheric bars that litter the coastal stretch.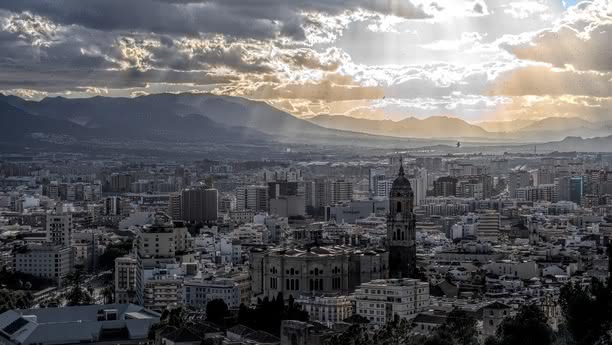 Enjoy the art, culture and time-honored architecture in Malaga
With the freedom made possible by renting a car, travelers can proceed in exploring Malaga by heading to La Concepcion. Over 150 years old, these extravagantly sculpted gardens are a place of beauty that have been preserved and cultivated by the Spanish culture for generations. First conceived by the Marquess of Loring, these gardens are home to over 5,000 different species of plants. It became a heritage site in 1943, drawing visitors from all over the region on an annual basis.
For any travelers who are bringing kids along in the rental car, there is Tivoli World. This amusement park has been the only one in the region for nearly 20 years. In addition to rides geared towards both children and adults, visitors to the park can enjoy daily shows that tour both nationally and internationally. If rides are not exactly to your liking, then then the park offers botanical gardens that are beautiful and educational.
Finding a charming a bodega is as simple as heading to Bodega El Pimpi. They serve culinary delicacies and offer only the finest wines from the Malaga region. The atmosphere is refined while still reflecting the heritage that has made this city so wonderful over time. Visitors enjoy homemade tapas, potato croquettes, and huge variety of traditional Spanish dishes that are prepared to the most exacting standards. Dozens of celebrities have visited the area for the fine food and the unique ambiance this bodega has to offer.