Accessories
Gas cylinder - sheet metal 11kg
TRUMA filters
THULE roof awning 4.0 m
KIT for FIAT DUCATO
Fiamma Level Up Jumbo Kit
Special navigation system for Fiat Ducato with software for motorhomes
ALPINE HCE-C1100 reversing camera
Dimensions and seats
| Lenght (mm) | Wide (mm) | High (mm) |
| --- | --- | --- |
| 3 363 | 2 050 | 2 642 |
| Driving seats | Numbers of beds | Beds (cm) |
| --- | --- | --- |
| 4 | 2 | 185x92, 181x92 |
Motorhomes / caravans Hobby Vanatana Ontour
Before the start of SIXT RENT A CARAVAN, our own staff tested several types of motorhomes and caravans. SIXT could offer you the best solutions for your holiday -  in SIXT fleet of motorhomes / caravans.
The comfortable Hobby Vantana Ontour motorhome you can be driven with a B driver's license for passenger cars (ie "driver's license") and is easy for you to operate and drive. In addition, it is a versatile, elegant and premium car with plenty of storage space and enough quality sleeping for the two people accordingly. There is possibility to drive 4 people, but two can sleep inside on the bed and next two can sleep eg. in the camping tent (eg. family children, or father with his son).
Prices range in the low season (October - May) from 2,100 CZK / day incl. VAT, in high season from 3 300 CZK / day incl. VAT. Take a look at our price list.
Caravan reservation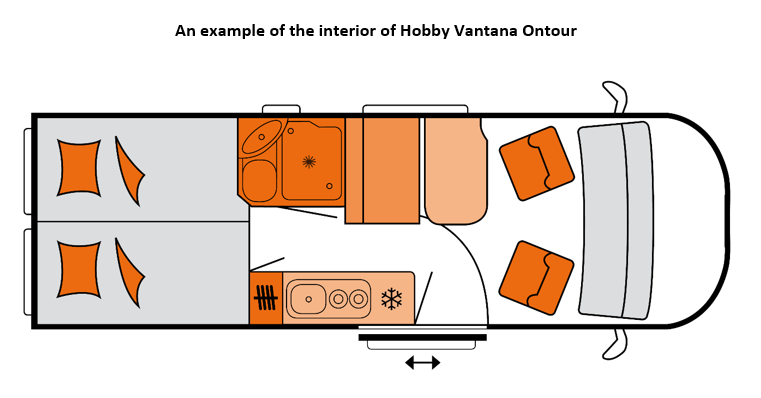 Don´t sit at home - discover your home country.
SIXT RENT A CARAVAN is a new brand  AND NEW PRODUCT NOT ONLY FOR FANS OF sixt, BUT ALSO FOR ALL CITIZEN. Stop to stay only at home and try to discover your home country deeply. Discover valeys  like beginning of the european river Elbe, mountains like Erzgebirge or Böhmerwald, together with possibility to visit Bavaria, enjoy the beauty of vineyards of south Moravia (Palava, Lednice, Kromeriz).
The SIXT RENT A CARAVAN was created in response to COVID-19 due to restrictions in tourism. Don't sit at home, come travel with us. With Sixt Rent a Caravan ? Rent a caravan from Sixt or its proven partners, leave your car for FREE at the SIXT branch at Sixt in Černokostelecká st., Prague, and go on an unusual holiday.