Pisa
A trip to Pisa can be made even better with an affordable, top quality car rental from Sixt. Experience the rich historical and cultural attractions of the Province of Pisa with the comforts of a premium rent a car. No matter what you have planned, from a romantic getaway to a family vacation, we have the right luxury or economy vehicle to satisfy your mobility needs.
Renting a car with Sixt in Pisa
Available to rent in Pisa is a large selection of premium vehicles that can cater to a range of travel plans and purpose. Deftly maneuver the city streets in a compact car or cruise around in a stylish convertible or agile sports car. There are also roomy SUVs, sedans and vans for those who are traveling with more belongings or a bigger group. No matter which model you select you can count on driving an up-to-date, reliable vehicle as our car rental fleet is regularly replaced. With our low rates on prestige brands such as BMW, Mercedes, Audi and others when you rent a car with Sixt you have the chance to drive first class and pay economy. Let us help you get the most out of your time on the road in Italy!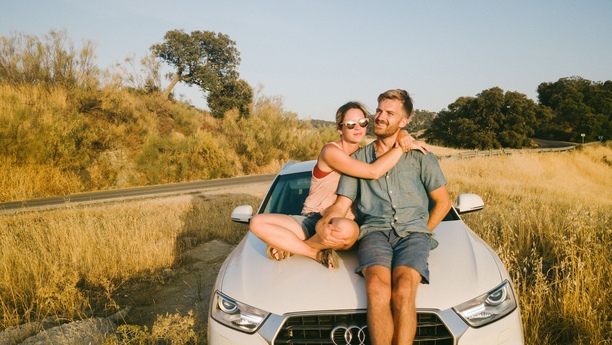 Customizing your Pisa Car Rental
Make sure you have all you need for your rental by browsing through our add-ons and upgrades. We offer great deals on useful extras that you can easily include when you make your reservation online or over the phone. Navigate confidently with a GPS or share the wheel with an additional driver. Book a child seat to avoid the hassle of bringing one from home if traveling with children and consider our insurance options so you can drive more relaxed and reassured. Besides being able to tailor your rent a car to your requirements you can also arrange a flexible agreement that fits your plans, whether you are renting for a weekend or a few months. Please be aware that although we cannot guarantee you to receive a specific car model, you will receive an equivalent vehicle in your chosen car category.
Driving in Pisa with your rent a car from Sixt
While getting around Pisa with your car rental it is important to pay attention to the parking restrictions and traffic rules and regulations. Failing to do so could result in fines so we recommend to familiarize yourself with the local customs and laws before embarking on your journey. Here are a few basic tips to help you avoid some common mistakes.
In the historic center (centro storico) of Pisa there is a strictly enforced Limited Traffic Zone (ZTL) for non-residents. Keep your eyes open for these signs because if you drive into this zone illegally a photograph will be taken of your car and you will be sent a fine. If staying at a hotel in this zone remember to give the reception your vehicle registration information as soon as you check in so they can register you for a temporary permit.
While on motorways passing on the right is absolutely not allowed, not even on a three lane highway. When attempting to change lanes on a multiple lane road signaling is not always enough to ensure drivers will let you in. Before switching lanes look to see you have adequate room as most Italian drivers will expect you to wait for them to pass first.
Posted signs will not be in English, know the Italian names of the destinations you are driving to.
Expect to pay at least two Euro per hour to park in Pisa and be aware many ticketing machines only accept coins. In general white lines on curbs mean free parking, blue is pay parking, and yellow is reserved.
In towns the speed limit is 50 km/hr, 70 km/hr on secondary roads outside of towns, and 110 km/hr on the autostrade. Remember to keep you headlights on at all times when driving outside of city centers.
Explore the Province of Pisa with your Sixt car rental
Pisa is a great base for your travels in Italy as it this beautiful and culturally rich province is home to many attractions of all kinds. Start off in the city of Pisa and tour around its architectural landmarks like the leaning tower and religious buildings. Put soaking up the Mediterranean sun on your list of things to do while in Pisa as well because your rental car gives you access to the wonderful beaches found in Marina di Pisa and Tirrenia. With your car you can also experience the Roman and Etruscan history of the area and take a trip to the town of Volterra. Visit the Guarnacci Etruscan Museum and the ruins of a Roman ampitheater. Or relax with an excursion to the thermal baths of San Guiliano, Uliveto or Casciana, which are said to have therapeutic qualities. Make it through your Pisa itinerary, or leave your trip open to the road, the choice is yours with the freedom of a reliable rent a car from Sixt.
Pisa as the gateway to the whole of Tuscany
With a rent a car in Pisa you will have access to the whole of Tuscany. Head out on scenic drives to charming towns, tour vineyards and taste local wines, and enjoy incredible cuisine and fabulous shopping. Whether you are interested in the cultural and artistic heritage of the area or want to experience the natural landscapes you can easily plan your trip to your preferences with your rental car. The coastal parts of Tuscany offers opportunities for all kinds of water activities from scuba diving to sailing, while the Apuan Alps give you the chance to visit protected environments and renowned white marble quarries. Leisurely drives will take you through Medieval villages and the finest vineyards in Italy, such as the wineries found in the Chianti area. Freely tour around the Tuscan countryside at your own pace and prepare yourself for a road trip that offers a feast your eyes and stomach. Our team wishes you a fun and safe journey with your Sixt car rental!