Bari
The Sixt Rent a car Bari Airport station offers all types of vehicles including vans, SUVS and racy sports cars or convertibles from which you can enjoy the sites and sounds of the island as you go exploring. You also don't have to worry about finding the Sixt Car Rental Bari station closed no matter what time your flight arrives or if it is a holiday. The Rent a car Bari station is open 24 hours a day for pick-up of rental cars as well as drop-off.
Affordable car hire in Bari
Once you touch down at an airport, one of your immediate needs will be to rent a car. You will need it to get from the airport to your hotel or other accommodation that you have booked. You'll conveniently be able to get a car right at the airport from the Sixt car rental Bari station.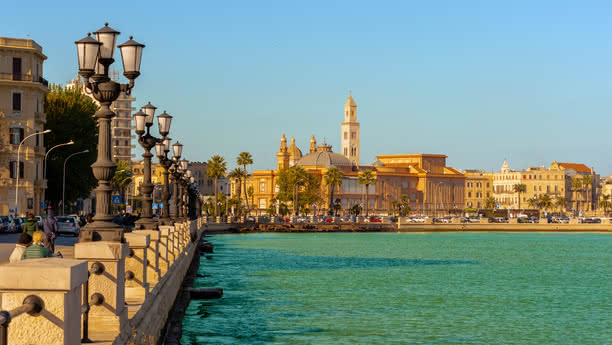 Sites that you should go and see with your Car Rental Bari of choice
When you have a rental car instead of relying on taxis and scheduled tours, you can be as spontaneous with your itinerary as you wish. There are a number of favorite tourist spots that you should not miss when you are in this part of Italy. Bari is the largest and most important city in Apulia. It is also a major exit point from which many travel to neighboring countries by ferry. One of the attractions of the town is its medieval look and town which has earned parts of it the name of Old Bari. There are a number of historical buildings and archaeological sites. The town was the heart of the region during the reign of the Romans and even thereafter. Precious old buildings in this town include the Basilica of Saint Nicholas with its ceiling made of gold and crypt, the majestic cathedral of Bishop Elias and the cathedral of Saint Sabino. Art lovers will love browsing the Fortino of Saint Antony which was recently converted into a modern art gallery. As you are sight-seeing stop and sample authentic Italian dishes at Vini e Cucina, an informal restaurant in the old town, Due Archi or Le Travi.